ICU nurses work in the Intensive Care Unit and treat patients with life-threatening medical conditions, illnesses, or injuries. Learn More.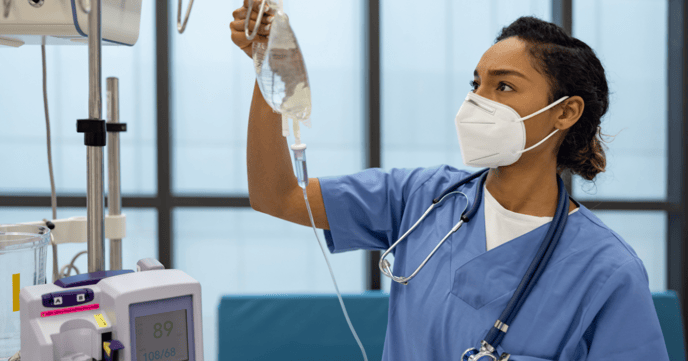 ICU nurses have a complex job. They must carefully manage their patients' conditions at all times, which means they must be decisive, understand complex directions, and display excellent communication skills.
In addition to high-level critical thinking and preparation at all times, ICU nurses often participate in life-saving interventions such as intubation, administration of vasopressors, and CPR.
According to #EveryNurse.org, an ICU nurse's duties commonly include:
Cleaning and bandaging patient wounds.
Tracking life support equipment such as heart monitors.
Immediately responding to changes in the patient's condition.
Evaluating vital signs such as heart rate, respiratory rate, and body temperature.
Administering medications through an intravenous tube, gastric tube, orally, by injection, or other methods, as determined by the patient's condition.
Infusing blood products and monitoring patients for reactions.
Caring for the patient's body immediately after death and arranging for transportation to a hospital, burial facility, or morgue.
Identifying patient needs according to age and level of consciousness and creating a care plan to meet them.
Diagnosing patient illnesses and injuries.
Standards of Care
ICU standards of care are determined by the policies of each healthcare facility and the American Association of Critical-Care Nurses (AACN). This list of standards from the AACN is considered widely accepted:
Check and record vital signs every hour
Head-to-toe assessment and documentation every 4 hours
Lab draws usually at least daily
Repositioning and skin integrity check every 2 hours
Wound care every shift
Frequent evaluation of continuous telemetry monitoring
Constant critical thinking to determine worst-case scenarios for each bodily system and systematic preparation for each scenario
Required Training
Because ICU or critical-care nursing is a specialized job, extensive training and certification is required.
To ensure standards of excellence, healthcare facilities only hire ICU nurses who have earned AACN certification. There are 4 different Critical Care Registered Nurse (CCRN) certifications:
CCRN (Adult) – This is the standard CCRN certification. Nurses with this certification can provide care regardless of location. They are able to work in ICUs, cardiac care units, surgical ICUs, transport and flight operations, and other trauma units.
CCRN (Pediatric) – Nurses with this certification specialize in providing care for infants, children, and adolescents.
CCRN (Neonatal) – Nurses with this certification specialize in providing care for newborn infants. The "neonatal" stage is the first month after a person is born.
CMC (Adult) – Nurses with a Cardiac Medicine Certification specialize in providing cardiac care for adults.
To view detailed descriptions of all critical-care certification requirements, visit the AACN's official website.
Unique Benefits & Rewards
The hands-on, high-intensity environment of the ICU makes critical-care nursing unique in several ways.
ICU patients require constant monitoring and care. Therefore, critical care nurses typically only work with one or two patients at a time. This can lead to deeper, more intimate connections between nurse and patient, which many ICU nurses cite as a major reward of the job.
These close connections often reach beyond the bedside to the patient's extended family, as nurses are frequently responsible for providing families with updates on their loved one's condition.
In addition to these meaningful patient-caretaker relationships, any time an ICU patient makes a recovery, critical-care nurses have the rare opportunity to observe an amazing success story.